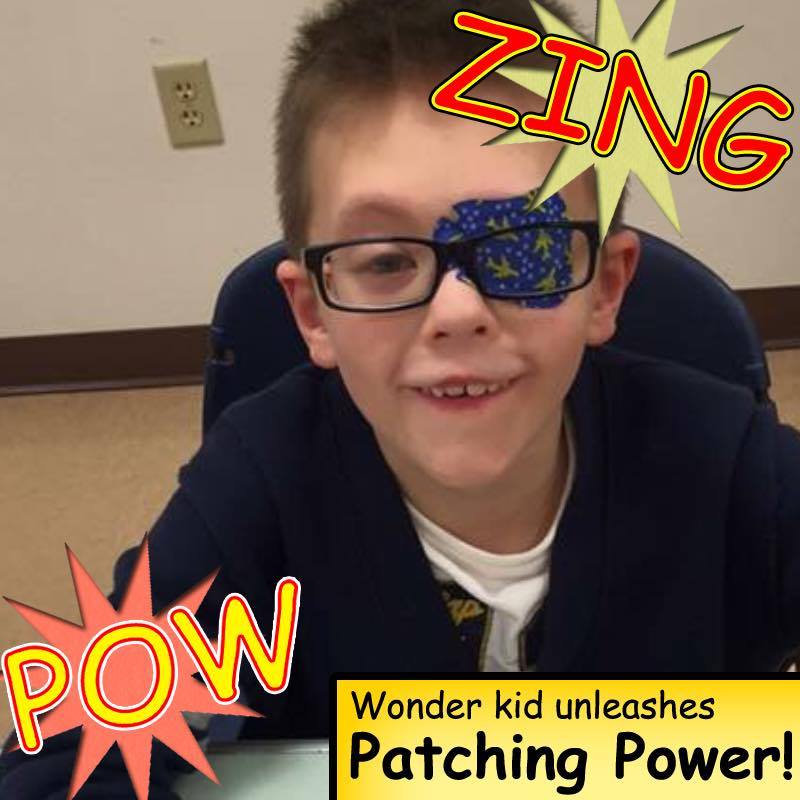 March is national "Save Your Vision" month, A Child's Eyes and Forsight Vision are hosting an on-line party called #IPatch. All children that wear an eye patch to treat their amblyopia and their families are invited to join us. The party lasts the entire month of March and you can join in anytime!
So what's an on-line party any way?
No we are not selling anything, lol. We are inviting you to join in and participate by posting pictures of your little kiddos patching and use the hashtag #IPatch. When you do this, you automatically join the party!
Why use a hashtag? How does it work?
When you use a hashtag, you are automatically linked in with all the other people in the party using the same hashtag. If you want to see and connect with the other families in the party simple search in Facebook or Instagram for #IPatch. When you search you will see all the other pictures, posts, stories, videos that people are posting about #IPatch. It's a way of bringing all our friends with patches together from all over this country and across the world!
Why have a party?
I'm so glad you asked :) We wanted to have a party for two reasons. First, we wanted to highlight your super patchers! I've been working with amblyopic kids and their families for nearly 23 years and I am so impressed with each and everyone of them. Patching is hard! But every day, these little kiddos wear their patches and deserve credit for all their hard work. They have real stories and real struggles that need to be recognized. Also, two years ago, we started a support group in our cummunity for families dealing with amblyopia and I've seen first hand the power of one child patching when he sees another child who is also patching. They become immediate friends and no longer feel like they are all alone in this eye patch thing. Isn't that why we join groups anyway? So I encourage you to join the party and show your kids other kids patching! Suddenly, instead of feeling singled out and alone they will feel like part of an elite community of Super Patchers!!! Look out amblyopia, here we come!
Secondly, we wanted to spread awareness about amblyopia. Amblyopia affects approximately 3% of children and is the most common vision disorder among children. The wonderful thing about amblyopia is that it is very treatable and can be cured, but if left untreated it can lead to permanent blindness. When I ask moms and dads of amblyopic children, if they have ever heard about amblyopia before their child was diagnosed, it is nearly unanimous that they have not. Our hope is that by spreading awareness about amblyopia that many more children would be diagnosed and treated earlier to prevent loss of vision. While amblyopia is very treatable, it must be done at an early age. Once a child reaches the ages of 7-9 the effectiveness of treatment is dramatically reduced.
So join the party! You can find more details on our facebook page www.facebook.com/Friendswithpatches. There are daily activites throughout the month of March and even a #IPatch photobooth! Don't forget to post woth the #IPatch so we can find you at the party!