Danielle D. Crull ABOM | January 19th, 2018 @ 4:21:32 PM
If you've ever wondered what the inside of our office looks like, here's a short tour of our waiting room!
Add A Comment
---
Danielle D. Crull ABOM | July 22nd, 2017 @ 5:37:41 PM
Every child deserves a well fitting pair of glasses. Keira is a sweet 9 year old little girl. This is a video about how we meet her special fitting requirements by customizing her new glasses. Bonus...lots of Keira smiles!
Add A Comment
---
Max Crull ABOC | January 5th, 2017 @ 5:53:20 PM (last updated on June 11th, 2018 @ 2:49:59 PM)
Hello!
My name is Max Crull. I maintain achildseyes.com as well as many of our other websites. I don't usually post on this blog, but I'm doing so to test our new RSS feed and see if I've coded everything correctly. I might be posting on the blog a few times until everything works. These posts will probably be removed once I'm done here.
Each RSS feed entry will have a short summary of each blog post, as well as a link to the full post. The summary itself will contain up to the first 1100 characters of the blog post. So, in order for me to make sure that works, I'll breifly describe what my role is in this business. This shouldn't take to long.
If you've been to our Mechanicsburg location, you've may or may not have seen a guy going back and forth in the hallway, or the top of someone's head behind a computer. If you have, then that guy was me. Unless you've seen my brother Carson, who also goes back and forth in the hallways and hides behind a computer. As we both have been told, unless you know us personally, it's very hard to tell us apart. My brother is a bit more social than I am, however. If you get a call from us, and you hear a man's voice instead of either Danielle's or Jax's, that was Carson. I usually don't touch the phone, and at times this has lead to a dropped call. If this has happened to you when you've called us, that was probably my fault and you have my apologies.
My main job in the business is to cut the lenses to fit your eyeglass frames. It's not too difficult of a job, although I have made some mistakes on a few jobs. I'm not perfect, then again no one is, but I am a perfectionist. This is kind of a curse as the slightest mistake can be a burden on my mind for the rest of the day. I do feel like I've gotten better over time.
Cutting lenses is not the only thing I do. As I've mentioned previously, one of my jobs is to maintain achildseyes.com, the website you are probably on right now. Unless you're not, then in that case I don't know what website you're on. Anyway, I'm planning on making a redesign to the website in the coming year. My dad, Eric Crull, was the one who designed it originally. It's served us well for the past however many years we've had it, but it's about time for a new look.
I also do a few odd jobs. One of them in vinyl cutting. If you've been to our new building, you may have seen some eyeglass frame shapes on the building. I've designed those, among many other things. If you've seen a vinyl sticker in the building, I've probably cut it. In fact, yesterday I made a label for one of Danielle's spontaneous craft projects. Here's a picture of it: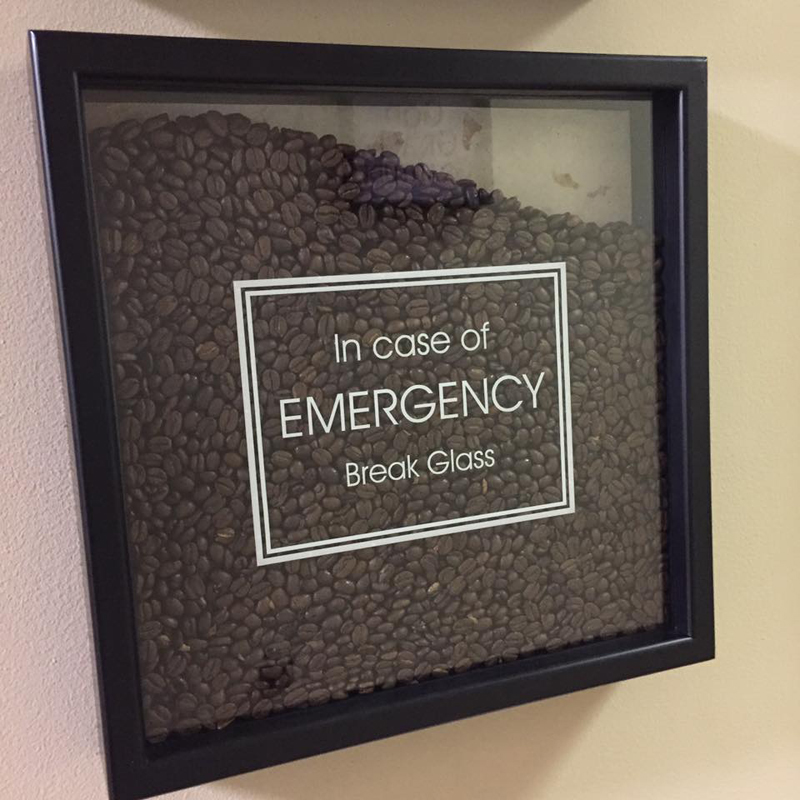 Yeah, in case you didn't know, we all love coffee!
Anyway, that is, for the most part, what I do at A Child's Eyes. It looks like I've written enough for me to submit this now.
One last thing before I go. If you guys are having any issues when using our website, please feel free to shoot me an email. You can also leave a comment here if you'd like.
Thank you.
Add A Comment
---
Danielle D. Crull ABOM | October 27th, 2016 @ 5:40:38 PM (last updated on June 11th, 2018 @ 2:48:56 PM)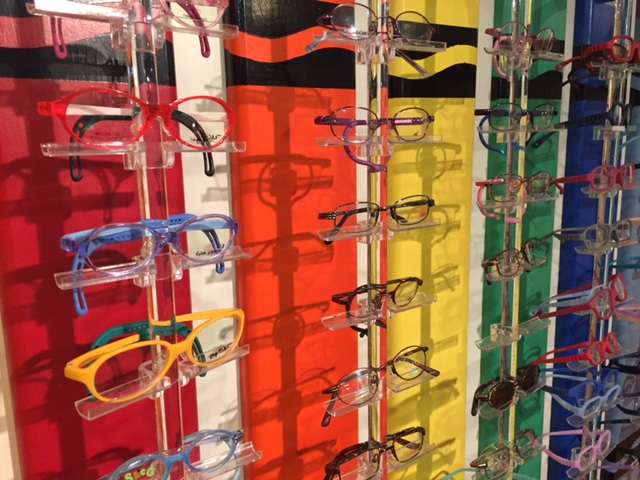 SOUND OF FRONT DOOR OPENING
*Possible Frame count = 650*
(Someone's here, must be a mommy, she's holding a little guy's hand and coming inside the door…He looks to be about 4 years old and she has a paper in her hand.)
*Possible Frame Count = 200*
"Hello, how are you?"
(he seems pretty happy, guess the doctor visit wasn't too bad)
"I'd love to help you with glasses, do you have a prescription?"
(+4.50 in both eyes, Dr. Smith, was seen yesterday…I bet it's a first Rx)
*Possible Frame Count = 150*
"Is this his first pair of glasses?"
(oh, wow, what a cutie…He has Superman on his shirt…wide head, maybe a size 44, maybe even 46)
*Possible Frame Count = 125*
"Great, looks like Johnny has a prescription that is a little high and he will want to and need to wear them all the time. He's going to love them!"
(superman..mmm…I know I have one of those toys around here somewhere)
"So Johnny, do you like Superman? Or are you Superman? Or shall I call you Clark? Wait! Do you have cape under that jacket?"
(haha, that got a smile on his face! Success!)
"I have a Superman Mr. Potato Head…want to see it? He even has a cape!"
(cool, now I can get him to look up, pupillary distance…smaller than average, maybe 25/25…cute little ears, beautiful blue eyes, mmm…what frames do I have with a small bridge?)
"Hey, Johnny…watch this! Superman is going to fly right at you!"
*Possible Frame Count = 80*
"How about I put Superman here on the table and I'll look for some super cool glasses we can try on?"
(I should probably put comfort cables on his glasses, he's pretty active)
*Possible Frame Count = 70*
"He's so cute, how did you know he would need glasses?"
(I thought I saw his eye turn a little…I better make sure the frame has room for a bifocal, just in case he needs one later on)
*Possible Frame Count = 50*
"What's your favorite color? Is it blue like Superman? Or Red like Ironman maybe?"
(okay, blue glasses…size 44 or 46, I have to put cables on them, they need a small bridge…oh wait! I forgot to look at his eye lashes)
"Hey Johnny, look at this! I have a Superman Lego person too!"
(yikes! How did I miss those LONG beauties? Boys always have the longest eyelashes, Optician's Bane)
*Possible Frame Count = 20*
"Let's put these glasses on and look in the mirror, I bet you look like Clark Kent."
(okay, that didn't work…where did that extra hand come from, I swear kids sprout them at will.)
"Hey Johnny, Super Spud wants to fly these glasses over to you…Swishhhhhhhh…boop…peekaboo"
(now he's laughing)
"Look in the mirror. Wow, look how handsome you are! You look just like Superman!"
(oh gosh, he's adorable. Ear lengths are different…I'll need to modify both with comfort cables and at different lengths!)
*Possible Frame Count = 15*
"Yes, they are super cute…let's try this one next. It's just a little lighter in color and rounder in shape than the first pair"
"How about this one? I bet Super Spud can put them on you again….Swishhhhhhh…boop"
(those eyelashes are gonna be a challenge)
"These are cute, but it won't work with his eyelashes. We don't want them rubbing at all, that can cause problems"
(better put all these frames back….eyelashes, always the boys)
*Possible Frame Count = 8*
(oh wait, I forgot about this frame)
*Possible Frame Count = 9*
"Hey Jonny, these are so cool, they have rockets on the side! Swishhhhhh…Boop!"
(is that a choir of angels I hear? These are perfect! The nose is perfect, the ears can be modified, and yes, the eyelashes have clearance!!!! Yes, yes, yes!)
"Yeah I can see that, the blue does look a little purple…especially in the light."
(boogers …)
*Possible Frame Count = 8*
"You prefer something a little lighter? Okay, let me see"
(uh oh, REAL boogers this time)
"Looks like Johnny needs a tissue, it's that time of year…here ya go."
*Possible Frame Count = 2*
"I think these two fit the best. They both have spring hinges, I can fit them with these comfort cables to keep them nice and snug while he's running around and they work well with his eyelashes. This one has a slightly lighter color and this one has red on the side. Let's try them both on again….. swishhhhhh….boop…. swishhhhh…boop!"
(two frames that can be fit perfectly! I like the red ones a lot, they make him look like Superman for sure)
"You want Johnny to decide? Okay…Johnny which pair of glasses is your favorite?"
(pick the ones with the red, pick the ones with the red)
"You like the ones with the red?"
(yes!)
"Good choice, Johnny! You can play for a little while and I'll talk to mommy, then I will measure your eyes for your new, super cool glasses!"
---
When it comes to choosing glasses, there's more than meets the eye. From the parent's point of view, you are concerned with the look on your child's face, and rightly so. You look at your little kiddo every day. Your child has a unique personality and his or her glasses should be an expression of that. As you can see from the story though, there is quite a lot to be concerned with in regard to picking out glasses. Fashion and looks are great, but if the glasses don't fit well, it doesn't matter how good they look, your child will not be happy wearing them. Not every pair of glasses can be fit or should be fit for your child. Finding that magic combination of a smart, cute look and a great fit is why seeking a trained optician is so important. From the eyelashes, to the potential need for bifocals, these things are what occupy the mind of an optician.
Add A Comment
---
Danielle D. Crull ABOM | March 8th, 2016 @ 11:15:01 AM (last updated on June 11th, 2018 @ 2:51:52 PM)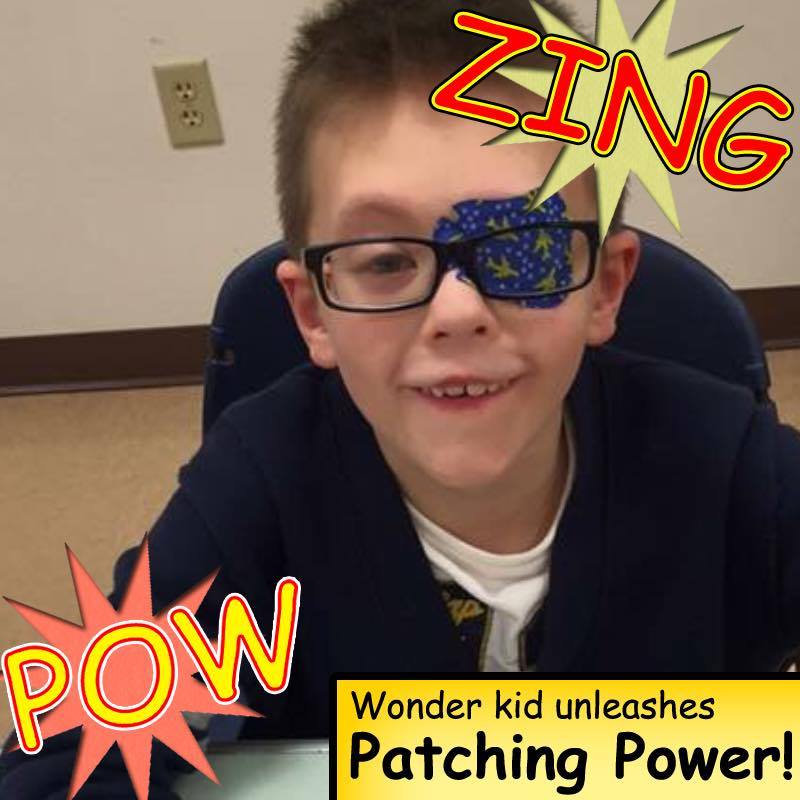 March is national "Save Your Vision" month, A Child's Eyes and Forsight Vision are hosting an on-line party called #IPatch. All children that wear an eye patch to treat their amblyopia and their families are invited to join us. The party lasts the entire month of March and you can join in anytime!
So what's an on-line party any way?
No we are not selling anything, lol. We are inviting you to join in and participate by posting pictures of your little kiddos patching and use the hashtag #IPatch. When you do this, you automatically join the party!
Why use a hashtag? How does it work?
When you use a hashtag, you are automatically linked in with all the other people in the party using the same hashtag. If you want to see and connect with the other families in the party simple search in Facebook or Instagram for #IPatch. When you search you will see all the other pictures, posts, stories, videos that people are posting about #IPatch. It's a way of bringing all our friends with patches together from all over this country and across the world!
Why have a party?
I'm so glad you asked :) We wanted to have a party for two reasons. First, we wanted to highlight your super patchers! I've been working with amblyopic kids and their families for nearly 23 years and I am so impressed with each and everyone of them. Patching is hard! But every day, these little kiddos wear their patches and deserve credit for all their hard work. They have real stories and real struggles that need to be recognized. Also, two years ago, we started a support group in our cummunity for families dealing with amblyopia and I've seen first hand the power of one child patching when he sees another child who is also patching. They become immediate friends and no longer feel like they are all alone in this eye patch thing. Isn't that why we join groups anyway? So I encourage you to join the party and show your kids other kids patching! Suddenly, instead of feeling singled out and alone they will feel like part of an elite community of Super Patchers!!! Look out amblyopia, here we come!
Secondly, we wanted to spread awareness about amblyopia. Amblyopia affects approximately 3% of children and is the most common vision disorder among children. The wonderful thing about amblyopia is that it is very treatable and can be cured, but if left untreated it can lead to permanent blindness. When I ask moms and dads of amblyopic children, if they have ever heard about amblyopia before their child was diagnosed, it is nearly unanimous that they have not. Our hope is that by spreading awareness about amblyopia that many more children would be diagnosed and treated earlier to prevent loss of vision. While amblyopia is very treatable, it must be done at an early age. Once a child reaches the ages of 7-9 the effectiveness of treatment is dramatically reduced.
So join the party! You can find more details on our facebook page www.facebook.com/Friendswithpatches. There are daily activites throughout the month of March and even a #IPatch photobooth! Don't forget to post woth the #IPatch so we can find you at the party!
Add A Comment
---