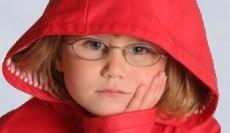 "I don't like these."
This was the eleventh pair the little boy had chosen off the shelf and then not liked.
"Why not?" I asked.
"I can't see," he answered.
Most little kids don't quite understand that the glasses they're trying to pick out aren't going to make them see better right away, or that they might feel funny. He thinks "Hmm, my glasses I have make me see better. I can't see as well out of these, and they don't feel like my other ones. I better try another one!"
Here's how I explain to a little on that we still need to make the glasses:
First, simply ask why he doesn't like them. If he says something like: "They're to loose/ tight/ itchy/ yucky," then it's probably a fitting issue. I get down at eye level with the kiddo and say something like "Well that's OK! Do you know what my job is? My job is to make the glasses you pick feel really good like your old glasses! So don't worry about them feeling too loose/ tight/ itchy/ yucky, because I'm going to fix that for you."
If he says something like, "They're too blurry," then really he's just noticing not having his prescription. So I'd say something like "Well, lets pretend for a minute that these would make you see better. Because when I put your special lenses in them, you will be able to see just like in your old glasses! So don't worry, which ever glasses you pick, you'll be able to see out of. Just focus on how they look on you."
If your child can't see well enough without his or her glasses to look in a mirror, here's a few tips:
Pick a few out and then put her glasses back on and let her inspect them. Sometimes there's a little detail that they couldn't see that they might really like (or really not like)!

Take pictures of him in the new frames and let him look at it with his glasses on. With the rise of smart phones, this has become easier and easier! We always have an iPad around the office though, just in case.
Sometimes it's not either of these things! I had a child come into my office to get new glasses and he was looking for something very particular and wasn't finding it, to the point of tears! Finally he says "I want the dots on my glasses." I was very confused so I asked him to point to the dots. He pointed to the temple covers on the ends of his glasses, and sure enough, there was a little gummy dot on the end of them! I went on to explain that I could put that on any of the glasses and he brightened right up!
Just bear in mind that most of the time kids won't remember the last time they got glasses. Helping them understand why these new glasses aren't like the other ones makes the whole experience a lot more enjoyable!